DIFFU K 600 mg Capsule Uses, Dosage, Side Effects & Precautions
What is Diffu K used for?
Diffu-k 600 mg Generic drug of the therapeutic class: Metabolism and nutrition
active ingredients: Potassium chloride.
What is Diffu K used for AND indication?
This medicine is indicated for the treatment and prevention of potassium deficiency.
Diffu-k Dosage
Preventive treatment: 2 to 3 capsules per day (ie 16 to 24 mmol (mEq) / day).
Curative treatment: 5 to 12 capsules per day (40 to 96 mmol (mEq) / day).
Diffu-k Contraindications
Hyperkalaemia

Situation that can lead to hyperkalaemia

Renal failure

Addisonian syndrome

Uncontrolled diabetes

Congenital myotonia
Hyperkalaemia or any situation that could lead to hyperkalaemia, in particular: renal failure, Addisonian syndromes, uncontrolled diabetes (because of metabolic acidosis), congenital myotonia, concomitant treatment with a potassium-sparing diuretic alone or in combination (except under strict control of serum potassium) .
How it works Diffu-k?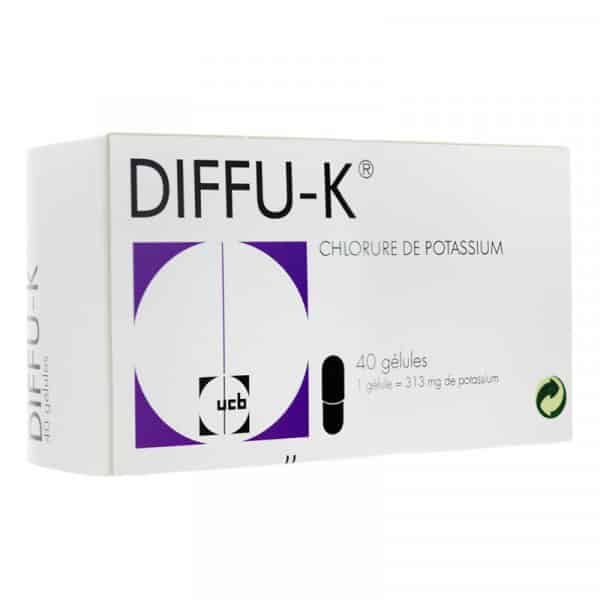 Potassium supplementation:
Biologically, hypokalemia less than 3.6 mmol / l (mEq) indicates potassium deficiency.
This deficiency can be of origin:
odigestive: diarrhea, vomiting, stimulant laxatives,
o renal: by increased urinary excretion in tubular disease, congenital or during treatment with sali-diuretics, corticosteroids or amphotericin B (IV), by excessive consumption of alkali or derivatives of licorice,
o endocrine: primary hyperaldosteronism (aetiological treatment).
This potassium deficiency, when it is symptomatic, results in: muscular fatigue, pseudo-paralysis, cramps and ECG changes, disorders of repolarization and ventricular hyperexcitability.
Chloride ion:
Its contribution corrects the metabolic alkalosis often associated with hypokalemia.
·  Dispersion of microcapsules and slow dissolution of KCl reduce the risk of ulcerogenic action of potassium chloride.
Diffu-k Side Effects
Hyperkalemia (with risk of sudden death): this is to be prevented by the control of serum potassium  .
In high doses, possibility of peptic ulceration.Some cases of hail ulceration have been reported with some solid oral forms. The ulcerogenic risk is reduced due to the dispersion and slow dissolution of KCl microcapsules.
Diffu-k Interactions
Hyperkalaemic drugs
Certain drugs or therapeutic classes may promote the occurrence of hyperkalemia: potassium salts, potassium diuretics, angiotensin-converting enzyme inhibitors, angiotensin II antagonists, nonsteroidal anti-inflammatory drugs, heparins (low molecular weight or unfractionated), immunosuppressants such as ciclosporin or tacrolimus, trimethoprim.
The combination of these drugs increases the risk of hyperkalemia. This risk is particularly important with potassium-sparing diuretics, especially when they are combined with one another or with potassium salts, whereas the combination of an ACE inhibitor and an NSAID, for example, is safer as soon as possible. the moment that the recommended precautions are implemented.
To know the risks and stress levels specific to hyperkalemic drugs, it is necessary to refer to the interactions specific to each substance.
However, some substances, such as trimethoprim, are not the subject of specific interactions with regard to this risk. Nevertheless, they can act as contributing factors when combined with other drugs already mentioned in this cap.
Contraindicated combinations (see Contraindications section )
Potassium sparing diuretics (alone or in combination): amiloride, canrenone, spironolactone, triamterene
Potentially lethal hyperkalemia, especially in renal failure (addition of hyperkalemic effects). Contraindicated unless there is hypokalemia
Associations advised against (see section Warnings and precautions for use )
ACE inhibitor and angiotensin II receptor antagonists
Potentially lethal hyperkalemia, especially during renal failure (addition of hyperkalaemic effects). Avoid this association unless there is prior hypokalemia.
Ciclosporin, tacrolimus
Hyperkalemia potentially lethal, especially during renal failure (addition of hyperkalemic effects).
Avoid this association unless there is prior hypokalemia.
Drug with same Active ingredient
Warnings and Precautions
Precautions for use
Control of serum potassium before and during treatment.
Use with caution in the elderly.
Taking this medicine with ciclosporin, tacrolimus, conversion enzyme inhibitors or langiotensin II antagonists is not recommended
Drive and use machines
PREGNANCY / BREAST FEEDING / FERTILITY
Given the available data, use in pregnant or breastfeeding women is possible.
What should I do if I miss a dose?
If you forget to take DIFFU K, capsule:
Do not take a double dose to make up for the dose you forgot to take.
What happens if I overdose from Diffu-k ?
If you take more DIFFU K, capsule than you should:
Overdose exposes to the risk of hyperkalemia. Notify a doctor immediately.
What is  Forms and Composition?
COMPOSITION
What does DIFFU K, capsule contain?
Active substance
Microencapsulated potassium chloride *: 600.00 mg
(Corresponding to 8 mEq of potassium)
for one capsule
Other components
* Composition of microencapsulated potassium: potassium chloride (80 to 90 percent), ethylcellulose (20 to 10 percent), intermediate microencapsulation adjuvants: cyclohexane, polyethylene C10.
Magnesium stearate, sodium lauryl sulphate.
Composition of the capsule shell:
Head (opaque yellow): gelatin, titanium dioxide, yellow iron oxide.
Body (opaque white): gelatin, titanium dioxide.
NOT's
Edrug-online contains comprehensive and detailed information about drugs available in the medical field, and is divided into four sections:
general information:
Includes a general description of the drug, its use, brand names, FAQs, and relevant news and articles
Additional information:
General explanation about dealing with the medicine: how to take the medicine, the doses and times of it, the start and duration of its effectiveness, the recommended diet during the period of taking the medicine, the method of storage and storage, recommendations in cases for forgetting the dose and instructions to stop taking the drug and take additional doses.
Special warnings:
For pregnant and breastfeeding women, the elderly, boys and drivers, and use before surgery.
Side effects:
It treats possible side effects and drug interactions that require attention and its effect on continuous use.
The information contained in this medicine is based on medical literature, but it is not a substitute for consulting a doctor.