tanakan 40mg tablete Uses, Dosage, Side Effects, Precautions & Warnings
Important to know about Tanakan
tanakan 40mg tablete Generic drug of the Therapeutic class: Cardiology and angiology
active ingredients: Ginkgo
What vitamin is best for memory?
tanakan medicine is indicated for the symptomatic treatment of certain cognitive disorders in the elderly (particularly memory disorders), except for any type of confirmed dementia, drug-related disorders, depression or metabolic disorders.
What is tanakan tablets used for and medicine indication ?
Herbal medicine used in the symptomatic treatment of cognitive disorders in the elderly, with the exception of patients with confirmed dementia, Parkinson's disease, iatrogenic cognitive disorders or secondary to depression or metabolic disorders.
Tanakan is indicated for adults and the elderly.
tanakan 40mg daily dosage
Oral way
3 tablets a day, to be distributed during the day.
The tablets are to be taken with half a glass of water at the time of the meals.
tanakan Contraindications
This drug is contraindicated in the following situation:
Hypersensitivity to any component of the tablet.
How it works Tanakan?
Pharmacotherapeutic group: other dementia drugs, ATC code: N06DX02.
The mechanism of action is not known.
In humans, pharmacological data show an electroencephalogram with increased vigilance in the elderly, a decrease in blood viscosity and an increase in vascularization of specific brain areas in healthy men (60-70 years of age). ), and a decrease in platelet aggregation.
 In addition, vasodilator effects on the blood vessels of the forearms causing an increase in blood volume have been shown.
WHAT'S tanakan 40 mg tablet side effects?
Like all medicines, this medicine can cause side effects, although not everybody gets them.
Summary of the security profile
The most common side effects are abdominal pain, diarrhea and dizziness.

If you develop a severe allergic reaction (angioedema) manifested by swelling of the face, lips, tongue or

throat, stop taking this medicine immediately and seek medical advice urgently.
Other possible side effects:
· Frequent (may affect up to 1 in 10 people)
allergic reaction
 Difficulty breathing
Headache
Syncope
 Indigestion
 Nausea
Eczema
 itching
· Uncommon (may affect up to 1 in 100 people)
By reporting side effects, you can help provide more information on the safety of the medicine.
tanakan medication Interactions
If this medication is taken concomitantly with anticoagulants (phenprocoumon, warfarin) or anti-platelet drugs (clopidogrel, acetylsalicylic acid and other nonsteroidal anti-inflammatory drugs), their effect may be affected.
Studies available with warfarin do not show any interaction between warfarin and products containing ginkgo, but sufficient monitoring is recommended when treating with a ginkgo-containing medicine at the beginning, end, a dose change or change of medication.
An interaction study with talinolol shows that ginkgo can inhibit intestinal P-glycoproteins. This may increase exposure to P-glycoprotein sensitive drugs in the gut such as dabigatran etexilate. 
Precautions should be taken when ginkgo and dabigatran are combined.
An interaction study showed that the Cmax of nifedipine can increase with ginkgo.
 In some individuals the increase may be up to 100% with vertigo and increased intensity of hot flashes.
Concomitant use of ginkgo preparations with efavirenz is not recommended; the plasma concentration of efavirenz may decrease due to the induction of cytochrome CYP3A4 (see Warnings and Precautions ).
Warnings and Precautions
This medicine contains lactose. Its use is not recommended in patients with galactose intolerance, Lapp lactase deficiency or glucose or galactose malabsorption syndrome (rare hereditary diseases).
In patients with predisposition to bleed (haemorrhagic site) and concomitant anticoagulant and anti-platelet therapy, a physician should be consulted before taking this medication.
Preparations containing ginkgo may increase the predisposition to bleed. As a precaution, this medication should be stopped 3 to 4 days before surgery.
In epileptic patients, the appearance of additional seizures favored by ingestion of preparations containing ginkgo can not be ruled out.
Concomitant use of preparations containing ginkgo with lefavirenz is not recommended .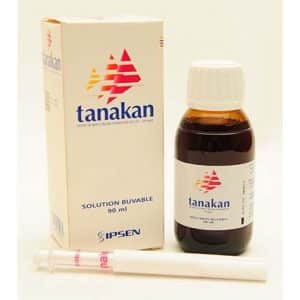 Drive and use machines
Effects on the ability to drive and use machines have not been studied.
PREGNANCY / BREAST FEEDING / FERTILITY:
tanakan in pregnancy
Ginkgo extract may decrease the ability of platelets to aggregate. 
The predisposition to bleed may increase. Studies in animals are insufficient with respect to reproductive toxicity ( see Preclinical Safety )
.Use during pregnancy is contraindicated ( see Contraindications ).
tanakan in Breastfeeding
There are no data on the excretion of ginkgo metabolites in breast milk.
 A risk for newborns and children can not be ruled out.
In the absence of sufficient data, use during breastfeeding is discouraged.
Fertility
There is no specific study in ginkgo man to evaluate its effects on fertility.
 Effects in female mice have been shown ( see Preclinical safety ).
What happens if I overdose from Tanakan ?
No case of overdose has been reported.
What is  Forms and Composition ?
COMPOSITION:
Active substance
Gingko ( Ginkgo biloba L.) (quantified extract of) titrated to 24% ginkgo glycosides and 6% Ginkgolides-bilobalide 40.00 mg For a coated tablet.
Other components
Lactose monohydrate, microcrystalline cellulose, corn starch, anhydrous colloidal silica, talc, magnesium stearate, hypromellose, macrogol 400, macrogol 6000, titanium dioxide, red iron oxide.
NOT's
Edrug-online contains comprehensive and detailed information about drugs available in the medical field, and is divided into four sections:
general information:
Includes a general description of the drug, its use, brand names, FAQs, and relevant news and articles
Additional information:
General explanation about dealing with the medicine: how to take the medicine, the doses and times of it, the start and duration of its effectiveness, the recommended diet during the period of taking the medicine, the method of storage and storage, recommendations in cases for forgetting the dose and instructions to stop taking the drug and take additional doses.
Special warnings:
For pregnant and breastfeeding women, the elderly, boys and drivers, and use before surgery.
Side effects:
It treats possible side effects and drug interactions that require attention and its effect on continuous use.
The information contained in this medicine is based on medical literature, but it is not a substitute for consulting a doctor.