Paracetamol Mylan 500mg Uses, Dosage, Side Effects,Precautions &Warnings
Paracetamol Dosage
Paracetamol Mylan 500mg Generic drug of the therapeutic class: Analgesics
active principles: Paracetamol
Important to know about Paracetamol Mylan ?
This medicine contains paracetamol.
It is indicated in case of pain and / or fever such as headaches, flu, dental pain, body aches, painful periods.
This presentation is for adults and children from 27 kg (about 8 to 15 years) .
For children weighing less than 27 kg, there are other presentations of paracetamol: ask your doctor or pharmacist for advice.
What is the use of paracetamol Mylan and indication ?
Symptomatic treatment of mild to moderate pain and / or febrile conditions.

Paracetamol Mylan Dosage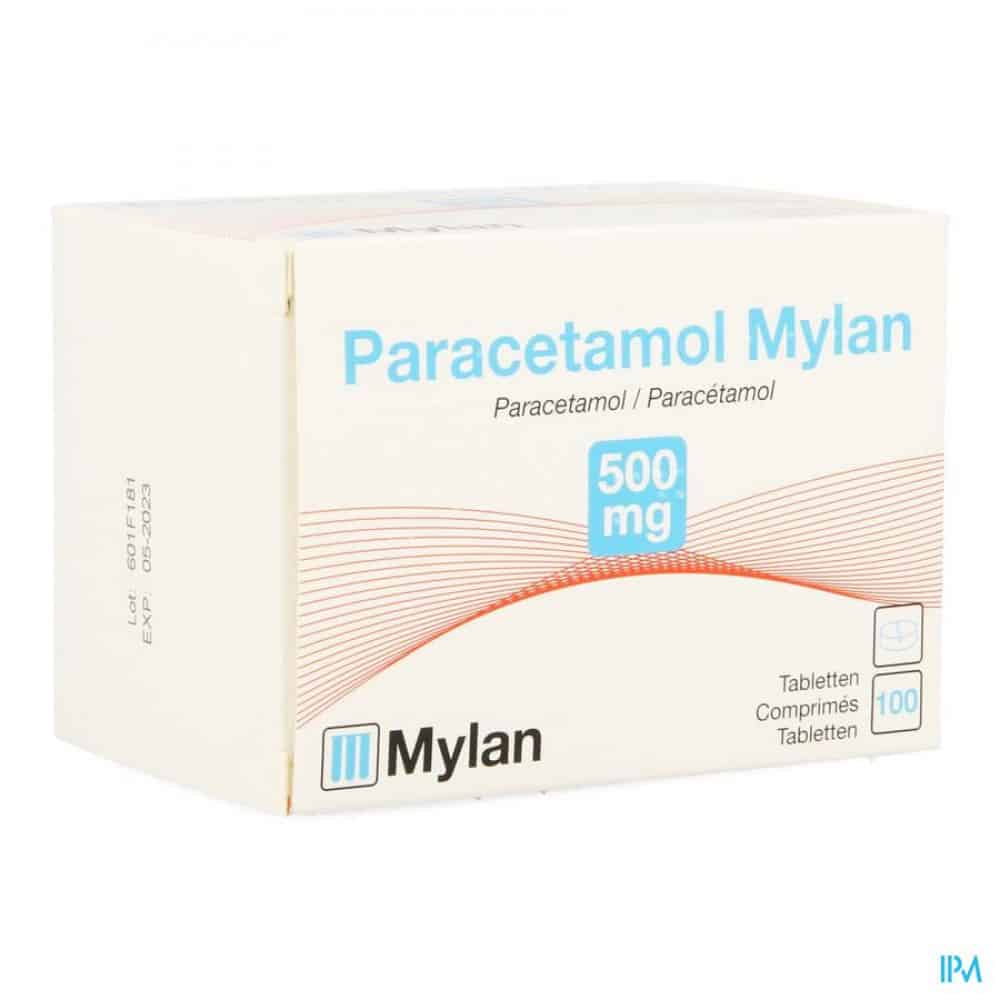 Dosage:
This presentation is reserved for adults and children from 27 kg (about 8 to 15 years)
For adults and children weighing more than 50 kg (starting at about 15 years of age), the recommended maximum daily dosage is 3000 mg paracetamol per day, or 6 capsules per day.
 The usual dosage is 1 capsule 500 mg, to be renewed if necessary after 4 hours minimum without exceeding 6 capsules per day.
In case of pain or fever more intense, 2 capsules 500 mg, to renew if necessary after 4 hours minimum, without exceeding 6 capsules per day.
In children  : The dosage of paracetamol depends on the weight of the child; ages are mentioned for information. If you do not know the child's weight, weigh it to give the best dose.
Paracetamol exists in many dosages, allowing to adapt the treatment to the weight of each child.
The recommended daily dose of paracetamol is approximately 60 mg / kg / day, to be divided into 4 or 6 doses, approximately 15 mg / kg every 6 hours or 10 mg / kg every 4 hours.
The usual dosage is:
For children weighing between 27 and 40 kg (approximately 8 to 13 years), the dosage is 1 capsule 500 mg per dose, to be renewed if necessary after 6 hours, without exceeding 4 capsules per day.
For children weighing between 41 and 50 kg (approximately 12 to 15 years), the dosage is 1 capsule 500 mg per dose, to be renewed if necessary after 4 hours, without exceeding 6 capsules per day .
IF IN DOUBT, ASK YOUR DOCTOR OR PHARMACIST.
Method and route of administration
Oral way.
The capsules are swallowed without opening them with a drink (eg water, milk, fruit juice).
The capsule or tablet is contraindicated in children under 6 years of age because it can swallow and choke. Use another form.
Frequency of administration
Systematic catches prevent pain or fever oscillations.
In children, they should be regularly spaced, including at night, preferably 6 hours, and at least 4 hours.
In adults, they must be spaced at least 4 hours apart.
In case of severe kidney disease (severe renal failure), the catch will be spaced at least 8 hours apart.
Contraindications
Paracetamol hypersensitivity

Hepatocellular insufficiency

Child before 6 years old
Hypersensitivity to the active substance or to any of the excipients listed in section composition.

Severe hepatocellular failure.

 

Child less than 6 years old, because of the risk of wrongdoing.
How it works Paracetamol Mylan
Absorption
Oral paracetamol absorption is complete and rapid. Maximum plasma concentrations are reached 30 to 60 minutes after ingestion.
Distribution
Paracetamol is rapidly distributed in all tissues. The concentrations are comparable in blood, saliva and plasma. Plasma protein binding is low.
Metabolism
Paracetamol is metabolized mainly in the liver.
The two major metabolic pathways are glucuronidation and sulfoconjugation.
The latter pathway is rapidly saturable at dosages higher than the therapeutic doses.
 A minor route, catalyzed by cytochrome P 450, is the formation of a reactive intermediate (N-acetyl benzoquinoneimine), which under normal conditions of use is rapidly detoxified by reduced glutathione and eliminated in the urine. after conjugation with cysteine ​​and mercaptopuric acid.
On the other hand, during massive intoxications, the quantity of this toxic metabolite is increased.
Elimination
Drug with same Active ingredient
The elimination is essentially urinary. 90% of the ingested dose is eliminated by the kidney in 24 hours, mainly in the form of glucuroconjugate (60 to 80%) and sulfoconjugate (20 to 30%). Less than 5% is eliminated unchanged.
The elimination half-life is about 2 hours.
Pathophysiological variations
· Renal impairment: In patients with severe renal impairment (creatinine clearance <10 ml / min), paracetamol and its metabolites are delayed.
· Elderly: Conjugacy capacity is not changed.
Paracetamol Mylan Side Effects
Like all medicines, PARACETAMOL MYLAN 500 mg capsule can cause side effects, although not everybody gets them:
In rare cases, a rash or an allergic reaction may occur. You should stop treatment immediately and tell your doctor.
Exceptionally, biological changes requiring a blood test have been observed: abnormally low levels of certain blood elements (platelets) that can result in bleeding nose or gums. In this case, consult a doctor.
If any of the side effects gets serious, or if you notice any side effects not listed in this leaflet, please tell your doctor or pharmacist.
Keep out of the reach and sight of children.
Warnings and Precautions
Special warnings:
To avoid the risk of overdose, check the absence of paracetamol in other medicines.
The total dose of paracetamol should not exceed 80 mg / kg in children under 37 kg and 3 g per day in adults and grandchildren over 38 kg. ( see section Overdose ).
The use of tablets and capsules is contraindicated in children under 6 years of age because it can lead to a miscarriage.
Precautions for use:
In a child treated with 60 mg / kg / day paracetamol, the combination of another antipyretic is justified only in case of ineffectiveness.
PREGNANCY / BREAST FEEDING / FERTILITY
Pregnancy
Studies in animals have not shown any teratogenic or foetotoxic effect of paracetamol.
Clinically, the results of epidemiological studies seem to exclude a particular malformative or fetotoxic effect of paracetamol.
As a result, paracetamol, under normal conditions of use, may be prescribed throughout pregnancy.
feeding
At therapeutic doses, administration of this drug is possible during breastfeeding.
In case of overdose or accidental poisoning, urgently call a doctor.
What is  Forms and Composition ?
Active substance
Paracetamol: 500 mg
For a capsule.
Other components
Magnesium stearate.
Composition of the capsule shell: gelatin, titanium dioxide, red iron oxide, yellow iron oxide.
NOT's
Edrug-online contains comprehensive and detailed information about drugs available in the medical field, and is divided into four sections:
general information:
Includes a general description of the drug, its use, brand names, FAQs, and relevant news and articles
Additional information:
General explanation about dealing with the medicine: how to take the medicine, the doses and times of it, the start and duration of its effectiveness, the recommended diet during the period of taking the medicine, the method of storage and storage, recommendations in cases for forgetting the dose and instructions to stop taking the drug and take additional doses.
Special warnings:
For pregnant and breastfeeding women, the elderly, boys and drivers, and use before surgery.
Side effects:
It treats possible side effects and drug interactions that require attention and its effect on continuous use.
The information contained in this medicine is based on medical literature, but it is not a substitute for consulting a doctor.