motilium tablet Uses, Dosage, Side Effects, Precautions
Motilium (Domperidone) Uses, Dosage, Side Effects, Precautions
motilium tablet >> Generic drug of the Therapeutic class: Gastro-Entero – Hepatology
active ingredients: Domperidone
what is motilium?
Domperidone stimulates the movement of the stomach and intestines. It ensures that food goes faster from the stomach to the intestine. It helps migraines to make painkillers work faster. With breastfeeding, domperidone causes you to make more breast milk.
In case of nausea and vomiting, upset stomach, migraine and problems with breastfeeding. Sometimes also with certain forms of low blood pressure .
Tablets and drink: works within 15 to 30 minutes. The effect lasts 6 to 8 hours. Use this medicine 15 to 30 minutes before a meal.
Shake the drink well before measuring the dose .
Migraine attack: use domperidone at the same time as the painkiller .
Use domperidone as short as possible, no longer than 1 week. If you use it longer, you are more likely to have cardiac arrhythmia.
You may experience a dry mouth. This may result in earlier holes in your teeth. Brush and floss than extra good.
what is motilium used for and indication?
Motilium (Domperidone) is indicated for the relief of symptoms such as nausea and vomiting.
Motilium Dosage
Motilium (Domperidone) should be used at the lowest effective dose for the shortest time needed to control nausea and vomiting.
It is recommended to take Motilium (Domperidone) before meals. If the medicine is taken after meals, its absorption is somewhat delayed.
Patients should strive to take each dose on time. If a scheduled dose is missed, this dose should not be taken and the usual regimen should be continued. The dose should not be doubled to compensate for an omitted dose.
Usually, the maximum duration of treatment should not exceed one week.
Adults and adolescents (from 12 years and 35 kg)
One 10 mg tablet, up to 3 times daily, the maximum dose being 30 mg per day.
Newborns, infants, children (under 12 years) and adolescents under 35 kg
Given the need for an exact dosage, the tablet form is not suitable for children and adolescents weighing less than 35 kg. In these patients, it is recommended to use the oral suspension form.
Hepatic insufficiency
Motilium (Domperidone) is contraindicated in patients with moderate or severe hepatic impairment.
A change in dose is not necessary, however, in patients with mild hepatic impairment.
Renal failure
Since the elimination half-life of domperidone is prolonged in cases of severe renal insufficiency, in cases of repeated administration, the frequency of administration of Motilium (Domperidone) should be reduced to one or two doses per day depending on degree of severity of renal failure. A dose reduction may be necessary.
Contraindications
CONTRA-INDICATE:
Motilium is against-indicated in the following cases:

 Known hypersensitivity to domperidone or to any of the excipients of MOTILIUM.

Prolactin-bearing pituitary tumor (prolactinoma).

 MOTILIUM should not be used when stimulation of gastric motricity can be harmful:

gastrointestinal bleeding, mechanical obstruction or perforation.

 

The effervescent granules contain sucrose

 and may be unsuitable in patients with fructose intolerance, glucose-galactose malabsorption syndrome or sucrase-isomaltase deficiency.

Use in patients at risk of phenylketonuria: the effervescent granules contain aspartame. Do not use it in patients at risk of phenylketonuria.

 Use in hepatic disorders: domperidone is highly metabolized in the liver, MOTILIUM must not be used in patients with hepatic disorders.

 Use during breast-feeding: the total quantity of domperidone excreted in breast milk is estimated to be less than 7 μg per day at the maximum recommended dosage. The toxicity to newborns is unknown. Therefore, MOTILIUM should not be used during breast-feeding.
NOT RECOMMENDED :
Pregnancy:
There are few post-marketing data from the use of domperidone in pregnant women.
 A study in rats showed a toxic effect on reproduction at high dose, toxic to the mother.
The possible risk in humans is unknown. Therefore,
MOTILIUM should only be used during pregnancy when the expected therapeutic benefit justifies it.
how motilium works?
Domperidone is a dopamine antagonist with antiemetic properties that does not readily cross theblood-brain barrier. In domperidone users , particularly in adults, extrapyramidal disorders are very rare, but domperidone causes release of prolactin from the pituitary gland.
Its antiemetic effect appears to be due to a combination of peripheral effects (gastric motility) and antagonism of dopaminergic receptors in the chemoreceptor stimulation zone, located outside the blood-brain barrier , in the area postrema.
Studies in animals, as well as low concentrations found in the brain, indicate a predominant peripheral effect of domperidone on dopamine receptors.
Studies in humans have shown that per os domperidone increases the tone of the lower esophageal sphincter, improves antroduodenal motility and accelerates gastric emptying. There is no effect on gastric secretion.
In accordance with ICH-E14, a thorough study of the QT interval has been performed.
This study included a placebo, an active comparator and a positive control and was conducted in healthy subjects at a dose of 10 or 20 mg domperidone administered 4 times daily up to a maximum daily dose of 80 mg.
This study demonstrated a maximum difference in the QTc interval between domperidone and placebo (using the least squares method for variation from baseline) of 3.4 ms with 20 mg of domperidone administered 4 times per day on Day 4. Bilateral 90% CI (1.0 to 5.9 ms) did not exceed 10 ms.
No clinically relevant effect on QTc interval was observed in this study when domperidone was administered until
However, two previous studies of drug interactions have shown some QTc prolongation when domperidone is administered as monotherapy (10 mg 4 times daily).
The largest mean difference in time-adjusted QTcF interval between domperidone and placebo was 5.4 ms (95% CI -1.7 to 12.4) and 7, respectively. 5 ms (95% CI: 0.6 to 14.4).
What are the side effects of motilium?
In addition to the desired effect, this medicine can cause side effects.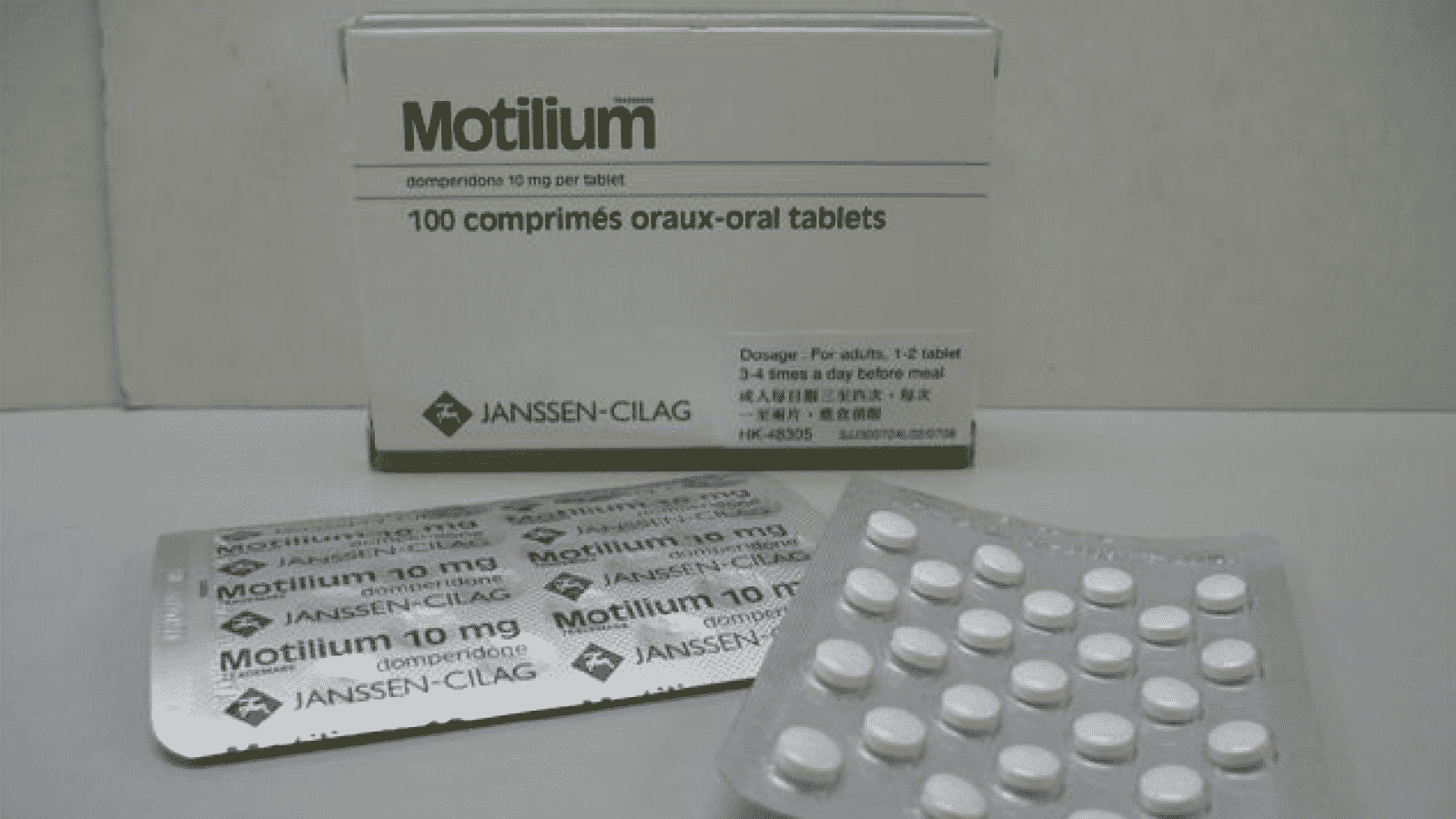 The main side effects are the following.
Rarely (from 1 to 10 in 100 people)
Transient intestinal cramps , these usually disappear after some time. These cramps are the result of the stimulating effect of domperidone on the intestines.
Dry mouth. As a result, holes in your teeth may develop earlier. Therefore, polish and floss extra well if you notice that you suffer from a dry mouth. Have the dentist check your teeth more often if you use this medicine for several weeks.
Very rare (affects less than 1 in 100 people)
Breast formation in men and swelling of mammary glands in women. Milk can also flow from the breasts and the menstruation can become disrupted. These symptoms disappear within a few days after stopping domperidone.
Hypersensitivity to this agent. You will notice this by skin rashes and hives. Do not use this medicine any more. Severe hypersensitivity can be seen from chest tightnessor a swollen face. Then go immediately to a doctor. In both cases you should not use this medicine in the future. Therefore, tell the pharmacy that you are hypersensitive to domperidone. The pharmacy team can then ensure that you do not get the product again.
Movement disorders , these are also called extrapyramidal phenomena. They are disorders in the control of the muscles. Symptoms may resemble the symptoms of Parkinson's disease: stiff muscles, tremors, difficulty walking or talking, restlessness, sudden muscle twitches. If you notice this warning to your doctor.
An increased risk of cardiac arrhythmia . You may suffer from sudden dizziness or briefly become unconscious. This is especially important for people with a certain heart rhythm disorder , namely the congenital prolonged QT interval . Do NOT use this medicine if you have this cardiac arrhythmia . Consult with your doctor. You may be able to switch to another means.
Domperidone is removed from the body through the liver. If you have a reduced liver function , you should therefore not use this medication. Consult with your doctor about this.
Diarrhea. Have you been using this medicine for several weeks and you still suffer from diarrhea after a few weeks? Consult your doctor.
Headache , dizziness, general feeling of weakness, anxiety and sleepiness. Will you continue to suffer from it after a few days? Then contact your doctor.
Less sense in lovemaking. If you have problems with this, talk to your doctor.
Consult your doctor if you suffer too much from one of the above mentioned side effects or if you experience other side effects that you are worried about.
motilium drug interactions
If antacid or antisecretory drugs are also prescribed, they should not be taken at the same time as Motilium (Domperidone) (domperidone base). Thus, they will have to be taken after the meal and not before.
Association with levodopa
Although a dose adjustment of levodopa is not considered necessary, an increase in plasma concentration (30-40% maximum) has been observed when domperidone is taken concomitantly with levodopa.
The main metabolic pathway of domperidone involves CYP3A4. In vitro data suggest that concomitant administration of drugs that significantly inhibit CYP3A4 may result in increased plasma concentrations of domperidone.
Increased risk of QT prolongation due to pharmacodynamic and / or pharmacokinetic interactions.
Associations contraindicated
Drugs that prolong the QTc interval (risk of torsades de pointes)
 Class IA antiarrhythmics (eg, disopyramide, hydroquinidine, quinidine)
 Class III antiarrhythmic drugs (eg amiodarone, dofetilide, dronedarone, ibutilide, sotalol)
 Certain antipsychotics (eg haloperidol, pimozide, sertindole)
 Certain antidepressants (eg citalopram, escitalopram)
 Certain antibiotics (eg erythromycin, levofloxacin, moxifloxacin, spiramycin)
 Some antifungals (eg fluconazole, pentamidine)
 Some antimalarial drugs (especially halofantrine, lumefantrine)
 Some digestive drugs (eg cisapride, dolasetron, prucalopride)
 Some antihistamines (eg mequitazine, mizolastine)
 Certain anticancer drugs (eg toremifene, vandetanib, vincamine)
 Some other drugs (eg, bepridil, diphémanil, methadone)
(see Contraindications section ).
Strong inhibitors of CYP3A4 (regardless of their QT prolongation effects), ie:
 Anti-proteases (eg ritonavir, saquinavir and telaprevir)
Systemic azole antifungals (eg, itraconazole, ketoconazole, posaconazole, voriconazole)
Some macrolide antibiotics (eg, clarithromycin and telithromycin)
(see Contraindications section ).
Associations advised against
Moderate inhibitors of CYP3A4 , ie diltiazem , verapamil and some macrolides.
Associations subject to precautions for use
Caution should be exercised with drugs that induce bradycardia and hypokalemia, and with the following macrolides that prolong the QT interval: azithromycin and roxithromycin (clarithromycin is contraindicated because it is a potent inhibitor of CYP3A4).
The list of substances mentioned above is representative and not exhaustive.
Warnings and Precautions
motilium warning
Renal failure
The elimination half-life of domperidone is prolonged in severe renal impairment. Therefore, in case of repeated administrations, the frequency of administration of domperidone should be reduced to one or two doses per day depending on the degree of severity of the renal failure. A dose reduction may be necessary.
Cardiovascular effects
Domperidone has been associated with prolongation of the QT interval on the electrocardiogram. In post-marketing surveillance, very rare cases of QT prolongation and torsades de pointes have been reported in patients treated with domperidone. These cases involve patients with risk factors, electrolyte abnormalities and associated treatments that may have been contributing factors.
Epidemiological studies have shown that domperidone is associated with an increased risk of serious ventricular arrhythmias or sudden death (see section 4.8 ). A higher risk was observed in patients over 60 years of age, patients treated with daily doses greater than 30 mg and patients treated concurrently with drugs that prolong the QT interval or CYP3A4 inhibitors.
Domperidone should be used at the lowest effective dose in adults and children.
Domperidone is contraindicated in patients with known prolongation of cardiac conduction intervals, including QTc interval, patients with significant electrolyte disturbances (hypokalemia, hyperkalemia, hypomagnesemia) or bradycardia, or patients with underlying cardiac conditions such as congestive heart failure due to the increased risk of ventricular arrhythmias. Electrolyte disturbances (hypokalemia, hyperkalemia, hypomagnesaemia) and bradycardia are known to increase proarrhythmic risk.
Domperidone treatment should be discontinued if signs or symptoms that may be associated with cardiac arrhythmia occur and patients should consult their physician.
Patients should be asked to report any heart symptoms immediately.
Pediatric population
Although neurological side effects are rare (see section  4.8 ), the risk of neurological side effects is higher in young children, as their metabolic functions and blood-brain barrier are not fully developed during the first few years. month of life. It is therefore recommended that the dose be precisely determined and strictly followed in the newborn, infant and child (see section  Dosage and method of administration ).
Overdose may cause extrapyramidal disorders in children, but other etiologies should also be considered.
Precautions for use
The film-coated tablets contain lactose and may be unsuitable in patients with lactose intolerance, galactosemia or glucose or galactose malabsorption.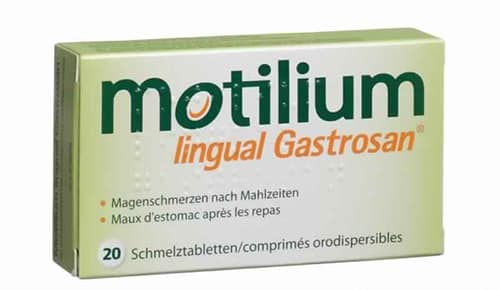 Drive and use machines
Drowsiness and dizziness have been observed following the use of domperidone.
As a result, patients should be informed that they should not drive or use machinery, or engage in other activities requiring vigilance and coordination, until they know what effect Motilium (Domperidone) is having on them.
Pregnancy / Breastfeeding
motilium during pregnancy
There is little postmarketing data on the use of domperidone in pregnant women. A study in rats showed a toxic effect on reproduction in case of high dose, toxic for the mother. The potential risk in humans is unknown.
Therefore, Motilium (Domperidone) should be used during pregnancy only when the expected therapeutic benefit justifies it.
feeding
Domperidone is excreted in human breast milk and breastfed children receive less than 0.1% of the weight adjusted maternal dose. The occurrence of adverse effects, particularly cardiac effects, can not be ruled out after exposure via breast milk.
A decision should be made to stop breastfeeding or to discontinue / abstain from domperidone treatment, taking into account the benefit of breastfeeding for the child and the benefit of treatment for the mother.
Caution should be exercised when risk factors for QTc prolongation are present in breastfed infants.
What happens if I overdose from Motilium ?
sYMPTOMS
Cases of overdose have been reported mainly in infants and children. Symptoms of overdose may include agitation, disturbances of consciousness, convulsions, disorientation, somnolence, and extrapyramidal reactions.
Treatment
There is no specific antidote for domperidone. In case of overdose, standard symptomatic treatment should be given immediately. ECG monitoring is recommended because of the possibility of QT prolongation.
Gastric lavage and administration of activated charcoal may be helpful. Close medical supervision and symptomatic treatment are recommended.
Anticholinergic or antiparkinson drugs may be useful in controlling extrapyramidal disorders.
What is  Composition ?
Core: Lactose, Corn starch, Microcrystalline cellulose (E460), Potato starch, Povidone (E1201), Magnesium stearate (E572), Cottonseed oil, Sodium lauryl sulfate (E487), Film coating: Sodium lauryl sulfate (E487), Hypromellose (E464)
Core: Lactose, Corn starch, Microcrystalline cellulose (E460), Potato starch, Povidone (E1201), Magnesium stearate (E572), Cottonseed oil, Sodium lauryl sulfate (E487), Film coating: Sodium lauryl sulfate (E47), Hypromellose (E464)
NOT's
Edrug-online contains comprehensive and detailed information about drugs available in the medical field, and is divided into four sections:
general information:
Includes a general description of the drug, its use, brand names, FAQs, and relevant news and articles
Additional information:
General explanation about dealing with the medicine: how to take the medicine, the doses and times of it, the start and duration of its effectiveness, the recommended diet during the period of taking the medicine, the method of storage and storage, recommendations in cases for forgetting the dose and instructions to stop taking the drug and take additional doses.
Special warnings:
For pregnant and breastfeeding women, the elderly, boys and drivers, and use before surgery.
Side effects:
It treats possible side effects and drug interactions that require attention and its effect on continuous use.
The information contained in this medicine is based on medical literature, but it is not a substitute for consulting a doctor.