Fucidine Cream Uses, Dosage, Side Effects, Precautions
Fucidine Cream Uses, Dosage, Side Effects, Precautions
fucidin generic name >> Generic drug of the therapeutic class: Infectious disease – Parasitology
active ingredients: Sodium fusidate
what is Fucidine Cream ?
Staphylococcal and streptococcal skin infections (example: impetigo, disinfection of microbial foci …).
fucidine what is it used for and indication?
Skin infections due to Staphylococcus and Streptococcus:
Impetigo and impetigo dermatitis:
In local treatment only in localized forms with small number of lesions.
As an additional local treatment in combination with a general antibiotic therapy adapted in the most extensive forms;
Disinfection of mucocutaneous microbial deposits, in healthy carriers of staphylococci, and after staphylococcal disease, including furunculosis.
Official recommendations concerning the appropriate use of antibacterials should be taken into account.
Fucidine Dosage
Local applications with or without dressing, once or twice daily after cleaning the infected surface.
Avoid application in a thick layer.
Limit the treatment to one week, as an indication.
The cream form is particularly suitable for oozing lesions, macerated, and folds.
Do not use the ointment form on macerated oozing lesions, or in folds or leg ulcers.
Contraindications
CONTRA-INDICATED:
Staphylococcal urinary tract infection (unless it is the result of renal impairment): fusidic acid diffuses into the renal parenchyma but is not eliminated through the urine.

Hepatic insufficiency.
ADVISED AGAINST:
Concomitant intake of fusidic acid with HMG-CoA reductase inhibitors (atorvastatin, fluvastatin, pravastatin, rosuvastatin, simvastatin) is not recommended (see interactions section).
how Fucidine works?
Fusidic acid is a steroidal antibiotic of the fusidanin family.
SPECTRUM OF ANTIBACTERIAL ACTIVITY
The critical concentrations separate the susceptible strains from the intermediate susceptibility strains and the latter, the resistant strains:
S £ 2 mg / l and R> 16 mg / l
The prevalence of acquired resistance may vary with geography and time for some species. It is therefore useful to have information on the prevalence of local resistance, especially for the treatment of severe infections. These data can only provide an orientation on the probabilities of the susceptibility of a bacterial strain to this antibiotic.
When the variability of the prevalence of resistance in France is known for a bacterial species, it is indicated in the table below:
| | |
| --- | --- |
| Categories | Frequency of resistance acquired in France (> 10%) (extreme values) |
| SENSITIVE SPECIES |   |
| Gram-positive aerobes | |
| Staphylococcus aureus |   |
| Staphylococcus not aureus | 5 – 20% |
| anaerobic | |
| Clostridium difficile |   |
| Clostridium perfringens |   |
| Peptostreptococcus |   |
| Propionibacterium acnes |   |
| MODERATELY SENSITIVE SPECIES |   |
| ( in vitro of intermediate sensitivity) |   |
| Gram-positive aerobes | |
| Streptococcus |   |
| RESISTANT SPECIES |   |
| Gram-negative aerobes | |
| Acinetobacter |   |
| Enterobacteriaceae |   |
| Pseudomonas |   |
Fucidine Side Effects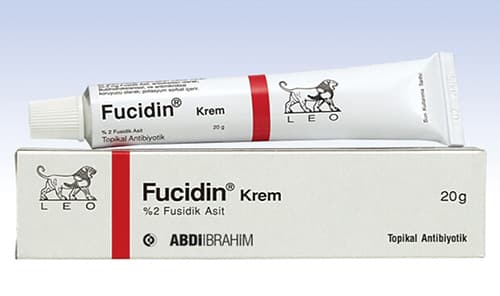 Estimating the frequency of adverse events is based on a pooled analysis of data from clinical trials and spontaneous reports.
Based on pooled data from clinical studies involving 4,724 patients receiving Fucidine Cream Cream or Fucidine Cream ointment, the incidence of adverse events was 2.3%.
The most commonly reported adverse reactions are various skin reactions such as pruritus and rash, as well as various site-specific reactions such as pain and irritation; these effects were observed in less than 1% of patients.
Cases of hypersensitivity and Quincke's edema have been reported.
Adverse effects are presented by Organ System Class (SOC) according to the MedDRA classification and each individual adverse event is listed in descending order of frequency and severity.

Very common (≥ 1/10)
Frequent (≥ 1/100 and <1/10)
Uncommon (≥ 1/1000 and <1/100)
Rare (≥ 1/10 000 and <1/1000)
Very rare (<1 / 10,000)
Immune system disorders

Rare: (≥ 1/10 000 and <1/1000)

hypersensitivity

Eye disorders

Rare: (≥ 1/10 000 and <1/1000)

Conjunctivitis

Skin and subcutaneous tissue disorders

Uncommon: (≥ 1/1000 and <1/100)

Dermatitis (including contact dermatitis, eczema)

rash *

Pruritus, erythema

Rare: (≥ 1/10 000 and <1/1000)

Quincke's dime

Urticaria

blister

General disorders and administration site abnormalities

Uncommon: (≥ 1/1000 and <1/100)

Pain at the application site (including burning sensation), irritation at the application site
* Different types of rash have been observed, including erythematous, maculopapular, papular and generalized vesicular pustular rash.
Pediatric population
The frequency, nature and severity of adverse events in children should be the same as in adults.
Fucidine Interactions
The data available to date do not suggest the existence of clinically significant interactions
Fucidine Warnings and Precautions
Special warnings
The resorption and the systemic passage of the antibiotic are not to be excluded in case of extensive epidermal lesions and in cases of leg ulcers.
Dermal sensitization may compromise subsequent systemic use of the same antibiotic  .
This medicine contains butylated hydroxytoluene (E321) and may cause local skin reactions (eczema) or irritation of eyes and mucous membranes.
This medication contains cetyl alcohol and lanolin and may cause local skin reactions (eg eczema).
Precautions for use
This pharmaceutical form is not suitable for being applied to the eye or the inner side of the eyelids.
The duration of treatment should be limited because the antibiotic used locally can select resistant germs and promote superinfection with antibiotic-resistant germs.
Drive and use machines
Fucidine Cream topically has no or negligible effect on the ability to drive and use machines.
Fucidine Cream and PREGNANCY / BREAST FEEDING / FERTILITY
fucidin cream during pregnancy
No effect during pregnancy is expected as the systemic exposure to fusidic acid is negligible.
Fucidin by topical see can be used during pregnancy.
feeding
No effects on breastfed newborns / infants are expected since the systemic exposure of the woman who is breastfeeding with fusidic acid is negligible.
Fucidin by topical may be used during breastfeeding but it is recommended to avoid its application on the breast.
Fertility
No clinical studies on the effects of Fucidine Cream topically on fertility have been conducted.
What happens if I overdose from Fucidine Cream ?
The occurrence of an overdose is unlikely.
However, in the case of excessive application over a large area of ​​skin, especially that of infants, an appearance of disorders of a hepatic nature can not be ruled out.
If you use more Fucidine Cream Ointment than you should, please contact your doctor or pharmacist.
What is Forms and Composition?
2% cream:   15 g tube. 2% ointment:   15 g tube…
| | |
| --- | --- |
| Cream: | p tube |
| Fusidic acid (DCI) | 300 mg |
Excipients: butylhydroxyanisole (E320), cetyl alcohol, glycerol, liquid paraffin (contains all-rac-alpha-tocopherol), potassium sorbate, polysorbate 60, petrolatum (contains all-rac-alpha-tocopherol), hydrochloric acid (for pH adjustment), purified water.
| | |
| --- | --- |
| Ointment: | p tube |
| Fusidic acid (INN) sodium salt * | 300 mg |
Excipients: lanolin (contains butylhydroxytoluene [E321]), petrolatum (contains all-rac-alpha-tocopherol), liquid paraffin (contains all-rac-alpha-tocopherol), cetyl alcohol.
*  Or sodium fusidate.
NOT's
Edrug-online contains comprehensive and detailed information about drugs available in the medical field, and is divided into four sections:
general information:
Includes a general description of the drug, its use, brand names, FAQs, and relevant news and articles
Additional information:
General explanation about dealing with the medicine: how to take the medicine, the doses and times of it, the start and duration of its effectiveness, the recommended diet during the period of taking the medicine, the method of storage and storage, recommendations in cases for forgetting the dose and instructions to stop taking the drug and take additional doses.
Special warnings:
For pregnant and breastfeeding women, the elderly, boys and drivers, and use before surgery.
Side effects:
It treats possible side effects and drug interactions that require attention and its effect on continuous use.
The information contained in this medicine is based on medical literature, but it is not a substitute for consulting a doctor.