Diamicron 60 mg tablet Uses, Dosage, Side Effects &Warnings
What is the use of diamicron
Diamicron 60 mg tablet >> Generic drug of the therapeutic class: Metabolism and nutrition
active ingredients: Gliclazide
what is diamicron?
DIAMICRON 60 mg is indicated in certain forms of diabetes (non-insulin-dependent type 2 diabetes) in adults, when diet, exercise and weight loss alone are not sufficient to achieve blood glucose levels. normal blood sugar).
What is the use of diamicron and indication ?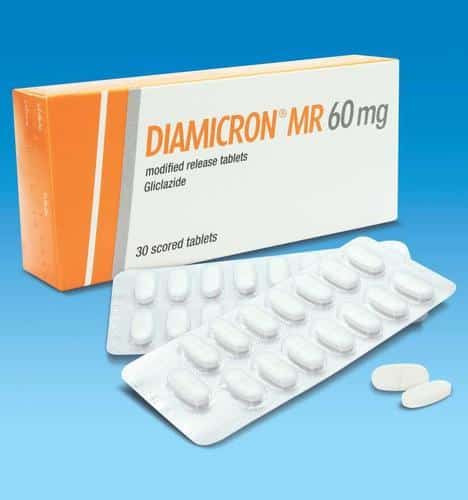 Non-insulin-dependent (type 2) diabetes in adults, when diet, exercise and weight reduction alone are not sufficient to achieve glycemic control.
How much diamicron can I take "Dosage"?
The daily dose of DIAMICRON 60 mg can range from ½ to 2 tablets per day, or 30 to 120 mg in a single oral intake at breakfast time.
It is recommended to swallow the tablet (s) without crushing or chewing.
If you miss a dose, the next day dose should not be increased.
As with any hypoglycemic agent, the dose should be adjusted according to the individual metabolic response of each patient (glycemia, HbA1c).
Initial dose
The recommended starting dose is 30 mg daily (½ tablet DIAMICRON 60 mg).
· If the glycemic control is satisfactory, this dose can be adopted as a maintenance treatment,
· If the glycemic control is not satisfactory, the dose may be increased to 60, 90 or 120 mg per day, in successive increments, with an interval of at least 1 month between each level , except in patients for whom blood glucose does not decrease after two weeks of treatment. In this case, it is possible to propose an increase in the dose at the end of the second week of treatment.
The maximum recommended dose is 120 mg daily.
A modified-release tablet of DIAMICRON 60 mg is equivalent to two modified-release tablets of DIAMICRON 30 mg. The breakability of DIAMICRON 60 mg modified release tablet ensures flexibility of the dose.
DIAMICRON 80 mg Relay, tablets by DIAMICRON 60 mg, scored tablets with modified release
One tablet of DIAMICRON 80 mg is comparable to 30 mg of the modified release formulation (ie ½ tablet of DIAMICRON 60 mg). Therefore, the relay can be done provided you follow carefully the evolution of blood glucose.
Relay of another oral anti-diabetic by DIAMICRON 60 mg
DIAMICRON 60 mg can take over from another oral antidiabetic treatment.
In this case, the dose and half-life of the previous antidiabetic agent should be taken into account.
The relay will generally be without a transition period, preferably starting with a dose of 30 mg. The dose will then be adjusted as indicated above, depending on the glycemic response of each patient.
In the case of relays of a sulphonylurea with a prolonged half-life, a therapeutic window of a few days may be necessary in order to avoid an additive effect of the two products which may lead to hypoglycaemia.
During this relay, it is recommended to follow the same procedure as when starting a treatment with DIAMICRON 60 mg, ie to start at the dose of 30 mg per day, then to increase the dose in successive stages, depending on the metabolic results.
Association with other oral antidiabetic agents
DIAMICRON 60 mg may be associated with biguanides, alpha-glucosidase inhibitors or insulin.
In patients inadequately balanced with DIAMICRON 60 mg, insulin-associated therapy may be initiated under strict medical supervision.
Special populations
Elderly
DIAMICRON 60 mg will be prescribed according to the same regimen as in subjects under 65 years of age.
Patients with renal insufficiency
In patients with mild to moderate renal impairment , the dosing regimen will be the same as in subjects with normal renal function, but with careful monitoring.
These data have been confirmed in clinical trials.
Patients at risk of hypoglycemia:
· States of undernutrition or malnutrition,
· Severe or poorly compensated endocrine pathologies (ante-pituitary insufficiency, hypothyroidism, adrenal insufficiency),
· Withdrawal from prolonged and / or high dose corticosteroid therapy,
· Severe vascular disease (severe coronary artery disease, severe carotid artery disease, diffuse vascular disease);
It is recommended that treatment be started at the minimum dose of 30 mg / day.
Pediatric population
The safety and effectiveness of DIAMICRON 60 mg have not been established in children and adolescents.
There are no data in children .
Contraindications
Hypersensitivity to gliclazide or to any of the excipients listed in section Composition , to other sulfonylureas, to sulfonamides;
Type 1 diabetes;
Diabetic pre-coma and coma, diabetic ketoacidosis;
Severe renal or hepatic impairment: in these situations, it is recommended to use insulin;
Treatment with miconazole (see section Interactions with other medicinal products and other forms of interactions );
breast-feeding (see section Pregnancy and breast-feeding ).
how does diamicron work?
Pharmacotherapeutic group: sulfonylurea – urea derivative, ATC code: A10BB09
Gliclazide is a sulphonylurea, an oral antidiabetic, with an endocyclic nitrogen-containing heterocycle, which differentiates it from other sulphonamides. Gliclazide decreases blood glucose by stimulating insulin secretion by the beta cells of the islets of Langerhans. The increase in insulin and C-peptide secretion following a meal persists after 2 years of treatment.
In addition to these metabolic properties, gliclazide has hemovascular properties.
Effects on insulin release
In type 2 diabetes, in the presence of glucose, gliclazide restores the early peak of insulin secretion, and increases the second phase of insulin secretion. A significant increase in insulin response is observed in response to a meal or glucose uptake.
Hemovascular properties
Gliclazide decreases the process of microthrombosis by two mechanisms that could be involved in the complications of diabetes:
. A partial inhibition of aggregation and platelet adhesiveness and a reduction in platelet activation markers (beta thromboglobulin, thromboxane B 2 );
· An action on the fibrinolytic activity of the vascular endothelium with an increase in t-PA activity.
What are the side effects of diamicron?
Like all medicines, this medicine can cause side effects, although not everybody gets them.
The most commonly observed secondary effect is hypoglycemia. For symptoms and signs, see section " Warnings and Precautions ".
If these symptoms are not treated, they can develop into drowsiness, loss of consciousness or even coma.
In case of severe or prolonged hypoglycaemia, even temporarily controlled by sugar absorption, you should contact a doctor immediately.
Liver disorders
Isolated cases of abnormal liver function, which may result in yellow discoloration of the eyes and skin, have been reported. If you have these symptoms, consult your doctor immediately. Symptoms usually go away after treatment. Your doctor will decide if you should stop your treatment.
Skin disorders
Cases of skin reactions such as rash, redness, itching, hives and angioedema (rapid swelling of tissues such as the eyelids, face, lips, mouth, tongue or throat that may cause difficulty breathing) were reported. Eruption may progress to widespread blistering or peeling of the skin.

Signs of 

severe hypersensitivity reactions (

 DRESS) 

have been reported exceptionally

 : they start with flu-like symptoms and a rash on the face, followed by an extensive eruption with elevated temperature.
Blood disorders
Decreasing the number of cells in the blood (eg, platelets, white and red blood cells) can cause pallor, prolonged bleeding, bruising, sore throat and fever. These symptoms usually disappear after treatment.
Digestive disorders
Abdominal pain, nausea, vomiting, indigestion, diarrhea and constipation. These effects may be reduced when DIAMICRON® 60 mg scored release tablet is taken with a meal as recommended.
Vision disorders
Your vision may be affected for a short time especially during the initiation of treatment. This effect is due to changes in blood glucose.
As with other sulfonylureas, the following side effects have been observed: Severe changes in the number of blood cells and allergic inflammation of the blood vessel wall, decreased sodium in the blood (hyponatremia), symptoms of liver failure (eg jaundice) which, in most cases, disappear when sulfonylureas are discontinued, but in isolated cases can lead to life-threatening liver failure.
Diamicron Interactions
 The following products may increase hypoglycaemia
Association contraindicated
+ Miconazole (general route, oral gel)
Increased hypoglycaemic effect with possible occurrence of hypoglycemic events, or even coma.
Associations advised against
+ Phenylbutazone (general route)
Increased hypoglycaemic effect of sulfonylureas (displacement of their plasma protein binding and / or reduction of their elimination).
Use preferably another anti-inflammatory if not to prevent the patient and to reinforce the self-monitoring: to adapt if necessary the dosage during the treatment by the anti-inflammatory and after its stop.
+Alcohol
Increased hypoglycemic reaction (inhibition of compensatory reactions) that may facilitate hypoglycemic coma.
Avoid taking alcoholic drinks and drugs containing alcohol.
Associations requiring precautions for use
+Because of the increase in the hypoglycemic effect, in some cases, hypoglycaemia may occur during concomitant treatment with the following medications
Other antidiabetic agents (insulin, acarbose, metformin, thiazolidinediones, dipeptidyl peptidase-4 inhibitors, GLP-1 agonists), beta-blockers, fluconazole, angiotensin-converting enzyme inhibitor (captopril, enalapril), H2, MAOI, sulfonamides, clarithromycin and nonsteroidal anti-inflammatory drugs.
2) The following products may cause an increase in blood glucose.
Association advised against
+Danazol
Diabetogenic effect of danazol.
If the combination can not be avoided, warn the patient and strengthen glycemic and urinary monitoring.
If necessary, adjust the dose of the antidiabetic medicine during treatment with danazol and after discontinuation.
Associations requiring precautions for use
+Chlorpromazine (neuroleptics)
At high dosages (> 100 mg chlorpromazine daily), elevated blood glucose (decreased insulin release).
Prevent the patient and strengthen glycemic monitoring. If necessary, adjust the dosage of the antidiabetic during treatment with the neuroleptic and after stopping.
+Glucocorticoids (general and local: intra-articular, cutaneous and rectal enema) and tetracosactide:
Elevation of blood glucose with sometimes ketosis (decreased tolerance to carbohydrates by corticosteroids).
Prevent the patient and strengthen glycemic monitoring, especially at the beginning of treatment. If necessary, adjust the dose of the antidiabetic medication during treatment with corticosteroids and after discontinuation.
+Ritodrine, salbutamol, terbutaline:
(Way IV).
Elevation of glycemia by beta-2 stimulants.
Strengthen glycemic surveillance. Possibly switch to insulin.
Associations to consider
+Anticoagulants (warfarin …)
Hypoglycemic sulfonamides may increase the anticoagulant effect during treatment.
Dosage adjustment of the anticoagulant may be necessary.
Diamicron Warnings and Precautions
Hypoglycaemia:
This treatment will only be prescribed if the patient is likely to eat regularly (including having breakfast). It is important to regularly absorb carbohydrates, the risk of hypoglycemia being increased in case of late meals, insufficient food or low carbohydrates. Hypoglycaemia may occur more particularly during a low-calorie diet, after a major or prolonged effort, after ingestion of alcohol, or during the administration of a combination of hypoglycemic agents.
Hypoglycaemia may occur after administration of sulphonylurea (see section 4.8). Some episodes can be severe and prolonged. Hospitalization may then be necessary and the resucrage must be continued over several days.
Careful selection of patients, the dose used and adequate patient information are necessary to reduce the risk of hypoglycaemia.
Factors favoring the risk of hypoglycemia:
· Refusal or inability of the patient to cooperate (especially in the elderly);
· Malnutrition, irregular meal schedule, skipped meals, fasting period or diet modification;
· Imbalance between exercise and carbohydrate intake;
· Renal insufficiency;
· Severe hepatic insufficiency;
· Overdose with DIAMICRON®;
· Certain endocrine disorders: thyroid disorders, pituitary and adrenal insufficiency;
· Concomitant use of other medicinal products .
Renal and Hepatic Impairment: The pharmacokinetics and / or pharmacodynamics of gliclazide may be impaired in patients with hepatic impairment or severe renal impairment. In these patients, since hypoglycemia may be prolonged, appropriate management should be instituted.
Patient information:
The risk of hypoglycaemia, its symptoms (see section 4.8), its treatment, and the conditions that predispose it must be explained to the patient and his / her family.
In particular, the patient should be informed about the importance of adherence to the diet, the need for regular physical exercise and regular monitoring of blood glucose.
Glycemic imbalance:
The glycemic balance of a patient treated with an oral antidiabetic agent may be modified if the following events occur: concomitant administration of St. John's wort ( 

Hypericum perforatum

) preparations , fever, trauma, infection or surgery .
In some cases, it may be necessary to use insulin.
The hypoglycaemic efficacy of any oral antidiabetic drug, including gliclazide, may be impaired over time in many patients: this may be related to worsening of diabetes or a decrease in response to treatment. This phenomenon is called secondary failure to distinguish it from primary failure, in which the drug is ineffective from the first use. Before classifying a patient as a secondary failure, options for dose adjustment and dietary monitoring will be evaluated.
Dysglycemia :
Blood sugar disturbances , including hypoglycemia and hyperglycemia, have been reported in diabetic patients receiving concomitant fluoroquinolone therapy , particularly in elderly patients . Thus , careful monitoring of blood glucose is recommended in all patients receiving both DIAMICRON 60 mg and a fluoroquinolone .
Biological analyzes:
Measurement of glycated hemoglobin (or fasting blood glucose) is recommended for assessing glycemic control. Glycemic self-monitoring can also be practiced.
Drugs in the sulfonylurea class are likely to cause haemolytic anemia in patients with G6PD (glucose-6-phosphate dehydrogenase) enzyme deficiency. Since gliclazide belongs to this class, caution should be exercised in patients with G6PD deficiency and treatment in another therapeutic class than sulfonylureas should be considered.
Drive and use machines
DIAMICRON 60 mg has no or negligible influence on the ability to drive and use machines. However, patients should be sensitized to the symptoms of hypoglycemia and should exercise caution when driving and / or using machines, especially at the beginning of treatment.
PREGNANCY / BREAST FEEDING / FERTILITY
diamicron during pregnancy
There are no data or limited data (fewer than 300 pregnancies) on the use of gliclazide in pregnant women; few data exist with other sulfonylureas.In animals, gliclazide is not teratogenic ( see Preclinical safety ).
As a precaution, it is best to avoid using gliclazide during pregnancy.
Diabetes control should be obtained before conception to reduce the risk of birth defects due to poorly balanced diabetes.
During pregnancy, oral antidiabetic agents are not appropriate and insulin is the treatment of choice for diabetes. It is recommended to relay oral antidiabetic therapy with insulin when a pregnancy is planned or when it is discovered.
diamicron and Breastfeeding
The excretion of gliclazide or its metabolites in breast milk is not known. Because of the risk of neonatal hypoglycaemia, gliclazide is therefore contraindicated in breastfeeding women.A risk in the newborn / infant can not be ruled out.
diamicron and Fertility
No effects on fertility or reproduction were observed in male and female rats ( see Preclinical safety ).
What should I do if I miss a dose?
If you forget to take DIAMICRON 60 mg, scored release tablet:
It is important to take your medicine every day on a regular basis so that the treatment works better.
However, if you forget to take DIAMICRON 60 mg, the next day resume your treatment as usual. Do not take a double dose to make up for the single dose you forgot to take.
What happens if I overdose from Diamicron ?
If you take more DIAMICRON 60 mg, modified release scored tablet than you should:
If you take too many tablets, contact your doctor or the nearest hospital emergency department immediately.
Excessive dose results in hypoglycaemia described in section 2. It should be treated immediately with sugar (4 to 6 pieces) or a sugary beverage and followed by a snack. or a substantial meal.
If the patient is unconscious, immediately notify a doctor and call for emergency assistance.
The same precautions should be taken if someone, for example a child, has taken the medicine involuntarily. Do not give food or drink to an unconscious patient.
It must be ensured that there is always an informed person who can call a doctor in case of emergency.
What is  Forms and Composition Diamicron?
Breakable * tablet with modified release (elongated, white, scored, 15 mm long and 7 mm wide, engraved "DIA 60" on both sides):   Boxes of 30 and 90, under pads.
Hospital model: Box of 100.
*   The tablet can be divided into two equal half-doses.
Excipients: lactose monohydrate, maltodextrin, hypromellose, magnesium stearate, colloidal anhydrous silica.
Excipient with known effect: lactose.
NOT's
Edrug-online contains comprehensive and detailed information about drugs available in the medical field, and is divided into four sections:
general information:
Includes a general description of the drug, its use, brand names, FAQs, and relevant news and articles
Additional information:
General explanation about dealing with the medicine: how to take the medicine, the doses and times of it, the start and duration of its effectiveness, the recommended diet during the period of taking the medicine, the method of storage and storage, recommendations in cases for forgetting the dose and instructions to stop taking the drug and take additional doses.
Special warnings:
For pregnant and breastfeeding women, the elderly, boys and drivers, and use before surgery.
Side effects:
It treats possible side effects and drug interactions that require attention and its effect on continuous use.
The information contained in this medicine is based on medical literature, but it is not a substitute for consulting a doctor.